Instagram
壹游日本いいよりーべん22期

壹游日本いいよりーべん21期

2016 秋限定の京都


* Online reservations are taken up to two days in advance.
* Symbols: 〇: available, △: few remaining (three people or less), ×: full
*From July 1 to August 31 we will only carry yukata.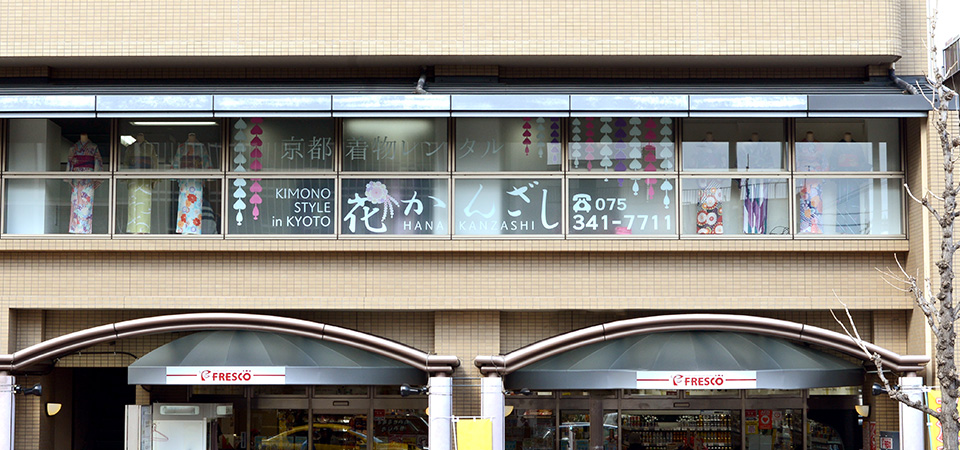 Hana Kanzashi is located one subway stop or an approximately seven-minute bus ride from Kyoto Station, the entryway to Kyoto.It is near Gojo Station on the Karasuma Line, which is convenient for sightseeing or visiting the downtown area.
TEL.+81-75-341-7711
TEL.+81-75-341-7711
Hours: 9:00 a.m. – 9:00 p.m.
(open every day)
* The return deadline is
30 minutes before closing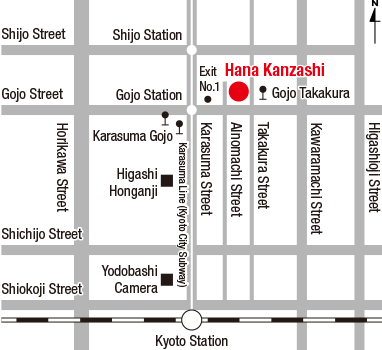 2F Samuti Yurin Kamaraado 150 Manjujicho, Nishiiru, Takakura, Gojo-dori, Shimogyo-ku, Kyoto-shi 600-8104

* Fresco supermarket is on the first floor
From Kyoto Station
Subway

At Kyoto Station on the Karasuma Line (Kyoto City Subway), board the subway to Kokusaikaikan Station -> Get off at Gojo Station -> Three minutes by foot from Exit No. 1
* Approximately two minutes to Gojo Station

City Bus

Take Bus No. 5, 26, 73, or 101 from the Bus Terminal at the Central Gate of Kyoto Station -> Get off at the Karasuma Gojo bus stop -> Three minutes by foot
* If you get on Bus No. 5 (via Gojo-dori), the closest bus stop is Gojo Takakura (right next to Hana Kanzashi by foot)
* Approximately five minutes to the Karasuma Gojo bus stop (may change depending on transportation circumstances)

Taxi

Tell the driver that you want to go to Takakura-dori Nishi on the north side of Gojo-dori
* Approximately five minutes from the Central Gate side of Kyoto Station (may change depending on transportation circumstances)
We accept the following credit cards:
Visa, MasterCard, UnionPay, JCB, American Express, Diners, WeChat payment