In principal, each plan includes an obi, kanzashi (hair ornament), tabi (socks), and Japanese-style bag at no cost. If you want to enjoy a higher grade of fashion, we also offer the following Japanese-style accessories. You can add or change your optional items while looking at the actual accessories in the shop.
Hair ornaments

We offer a wide range of high-grade, gorgeous hair ornaments.
* Hair ornaments are available to rent or purchase in the shop.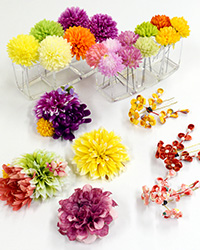 Patterned tabi (socks).

Tabi with patterns add a touch of style to your feet.
* You can take your tabi home after using them.
* The plans include a pair of plain white tabi as a free gift.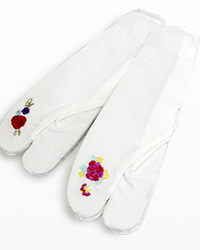 High-grade, Japanese-style bags

Choose from a selection of special, Japanese-style bags of a higher grade.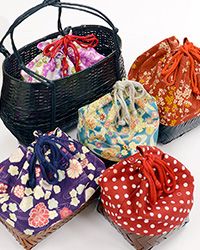 Under-robes with patterned collars

These robes can be seen from under your kimono. Changing the collar adds an extra dash of style.
* With the regular under-robes, you can see the plain white collar from under the kimono.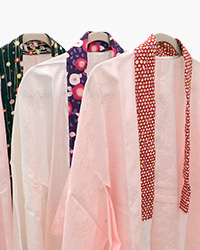 Obi decorations

These fun decorations are used to accessorize your obi for a more stylish ensemble.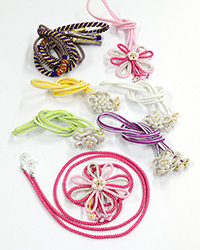 Nagoya Obi

These obi are recommended if you want to put together an elegant, sophisticated look. You'll feel like a kimono pro!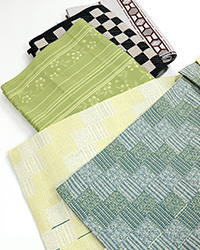 Umbrella

If you have an umbrella—which looks great with a kimono—there's no need to be concerned about sudden showers.


Stoles and haori (jackets)

Stoles and haori are ideal for chilly weather or cold mornings and nights. They will keep you warm so you can fully enjoy your walk.
*A haori is included in the Men's Plan during the winter only.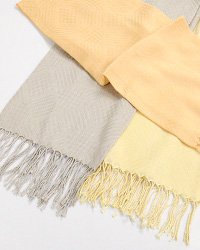 Your hairstyle is an important part of your ensemble that makes a kimono look even more attractive. With these services, a skilled professional stylist will give you a more authentic hairstyle.
Select Hairstyle Sets

Choose your hairstyle to match the kimono and mood of the day.
*These images are small examples out of many others.

Custom Hairstyle Sets

We will style your hair according to your wishes. If you would like to have a custom hairstyle, please be sure to notify us in advance.


Leave your trunk or suitcase at Hana Kanzashi.

* You cannot leave valuables at the shop.


We will deliver your baggage to the front desk of your hotel (excluding valuables).

* Each person will be asked to pay a security deposit (10,000 yen). The deposit will be refunded when you return your kimono.

The return deadline is 30 minutes before closing on the day of your rental, but you can extend until 4:00 p.m. on the following day. This option is recommended for people who want to wear a kimono at night or won't be able to return by the deadline.

* Please contact us if you will be late.


Let us know ahead of time if you want to wear a kimono outside of our business hours, such as early morning or night.


ご希望の方は受付にてお申し付けください。
返送用の袋と送り状を無料でお渡ししますので、レンタル翌日、返送用の袋に返却する着物や小物等を入れてコンビニでご返送ください。
送料のみお客様でご負担ください。

※クロネコヤマト便取り扱いのコンビニのみご利用いただけます。
※翌日返却の1,000円も必要です。

Going back to the hotel directly!
We deliver your baggage to the hotel you stay by 7:00pm on the day.
Please return Kimono and other rental goods at the front desk of the hotel by the following day.
Per person 1,000 yen (tax not included)

※1,000yen next-day return fee will be also required per person.
※Taking this service with two or more people, we give 500yen discount on Hotel-return fee to each person.